Reading became such a huge part of my life in 2011, so where better to record my favourites than here? Now I've always been a big reader. I love books and spent many hours of my childhood mesmerised at how my Mum could loose herself within pages, and 2011 I decided that I needed to broaden what I read. Primarily I read Chick-Lits, but became bored with the similar stories, with each author bringing a similar idea to the table, so I decided to branch out into some different genres. I am so glad that I did, as this past year I've been able to absorb some amazing, incredible and such through provoking stories, and though my top ten list does include some chick-lits, I have found a new appreciation for them and found some truly amazing books.
And to anyone out there that feels they don't have time to read, well you do. For years I'd only ever been able to read a maximum of 1 book a month, and by maximum I really mean MAXIMUM. The majority of times it would take me three to four months to finish a book no matter how amazing it was. But it turns out that you can read practically anywhere. By just reading a couple of pages here and there, it's surprising how quickly you can actually get through a book. One of my favourite places to read is actually on my break at work, much to some peoples' annoyance. I love to be able to detach myself from a stressful working day just for half an hour, into the pages of someones vivid imagination, and after I'm left feeling refreshed and ready to start again.
So enough rambling, heres my top ten books/series I read in 2011: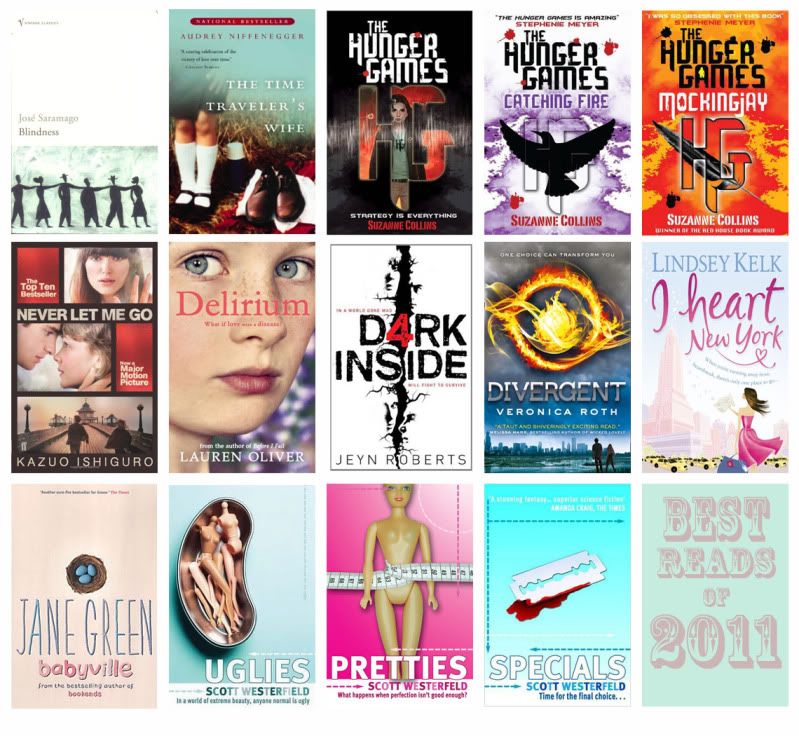 In no particular order:
Blindness
by
José Saramago
The Time Traveller's Wife
by Audrey Niffenegger
The Hunger Games Trilogy
by Suzanne Collins
Never Let Me Go
by Kazuo Ishiguro
Delirium
by Lauren Oliver
Dark Inside
by Jeyn Roberts
Divergent
by Veronica Roth
I Heart New York
by Lindsey Kelk
Babyville
by Jane Green
Uglies Trilogy
by Scott Westerfeld
I rated all these books 5/5 stars and would happily read each one again. There are so many other books that I loved this year that this post was so difficult, but I think I've got it right. There were only a few books that I read this year that I truly hated but lets not mention them in this post. What books did you read and love this year? I love finding out about new books that I've never heard of.