I See Trouble Ahead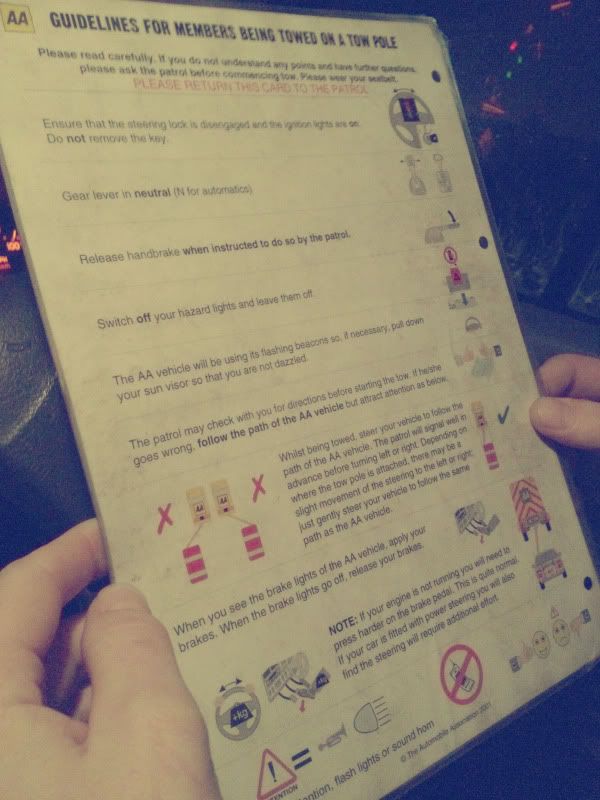 I received a wonderful phone call from my husband about half a hour after I was expecting him to arrive home from work, informing me that our poor little vehicle had lost all will to live. He couldn't even make it over a hill, and stuck in the middle of nowhere I was his last hope. Well unfortunately I was of no use to him at all so I told him to call my parents who quickly rose to the challenge and picked me up for a long and boring wait. I put my culinary skills to use and made Michael a packed lunch complete with homemade sandwiches, crisp, and some fizzy pop that I quickly bought from the shop on the way. That was after I threw a little fit that Mike had taken the last of my change out of my purse, typical man. Tut tut.
We then sat and waited for the AA, (who are amazing by the way, they've got me out of quite a few pickles in my time, you may or not
remember this one
) who came to the rescue and towed us home. Mike had a mini lesson in how to be towed safely, and to say that I was slightly over excited to be towed was a bit of an understatement. I was over the moon. See you've got to make the best out of a bad situation, see the silver lining and all that jazz.

Now we've got to wait until Tuesday when we can take our little run around to the garage to get her fixed. Hopefully it won't be too expensive, though I'm not counting on it. How was your Sunday? A little less eventful I hope.
Katie
x
P.S. We finally got home at midnight, and we still had to take Millie out for a walk. I'm not breaking my New Years Resolutions for no-one. We also had to drop off a photograph at my Nanna's, who stayed up for us. And let me tell you, she looks adorable in her dressing gown. I love my Nanna!