Over the past few weeks I've picked up so many new books. I know that I have some sort of addiction but I'm learning to come to terms with it. haha. I would say that I'm ashamed of buying all these, but to be honest I'm not. There are still a few more books that I want. haha, but I'm going to wait a while before I pick them up.
On Sunday, Michael and I got up very early to attend a local car boot sale and I must say that we had a lovely morning. We mainly went to pick up a few cheap books. Obviously. I love that you can pick up an unread book for 30p! Where else could you pick up a book for that price? There's only one problem, you start to become a little tight. You find yourself asking how much a book costs and if it's £1.50 or more you end up putting it back! Insane!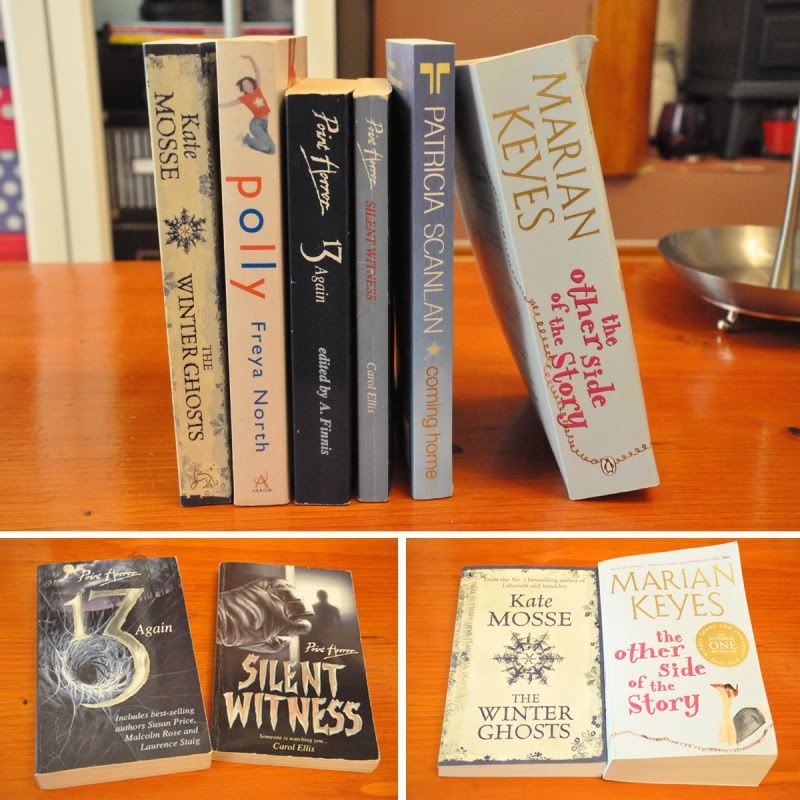 I absolutely love point horror books and I always have, so coming across some made my day. I'm always on the hunt for these as they don't actually sell them anymore and the only place I can get hold of them are ebay and now it seems, car boots.
I have been drawn to 'The Winter Ghosts' for months now but have never actually picked it up so to get it for only 50p was a complete an utter bargain.
And finally I love Marian Keyes
(see here)
so it comes as no surprise that I picked up this. All the way around I was hoping that I didn't already own this one, but luck was on my side and I didn't.
As you can tell I had a good run. I manage to pick up all these for less than £3. It was also nice just wandering around without a care in the world. We also ate ice cream at 9:30 in the morning. Crazy!
Speaking of car boot sales, I picked these up from my Mums. A while back my Mum was having her very own car boot and I picked up these from her boxes before she left. She's always raving about how good Torey Hayden's books are so I thought that I'd give them a go. And I'm sure you've noticed Alan Titchmarsh's books in there as well... what can I say? My mum forced these upon me, and you never know... they might be good.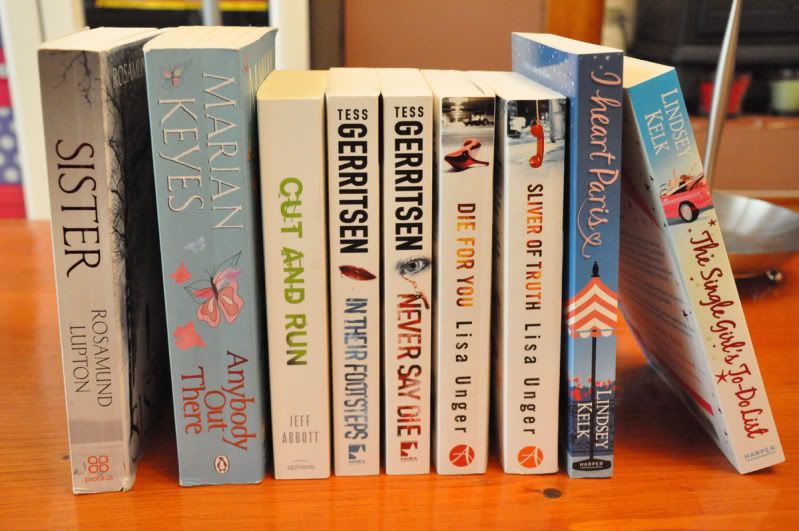 These are a few other bargains that I picked up from various places. It will probably take me over a year to read all these but I'm so excited. I've also got a few more in the post that I won on ebay. I always get a bit bummed out when someone outbids me at the last minute, the sneaky buggers, but I won a few so I'm rather happy. 'Sister' was an ebay buy and it's in amazing condition. The five smaller books in the middle are from Asda, and all for the bargain price of £1 each! I've read one of Lisa Unger's books already and I really liked it, so I'm quite excited to read her others. And finally the Lindsey Kelk books on the end were an absolute steal from Sainsburys. Like many supermarkets Sainsburys have the 2 for £7 offer on most books, these actually came as a double pack and were still in the deal. So instead of 2 books I got 3 for £7. Ah-mazing!
I think I'm going to have to go on a book spending ban soon or my house will turn into a library. Which isn't necessarily a bad thing. haha.
This is the current book that I'm reading. I'm rather enjoying it, so expect to see a book review on here very soon.
What book are you currently reading?
Speak Soon,
Katie
x